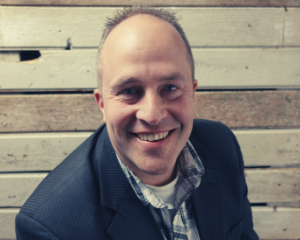 Executive Team
Vince has been on staff at Calvary since April 1991. Pastor Vince ensures that our Calvary family is connected and cared for. He provides leadership to Calvary Care through our Calvary Small Groups and also oversees our Connections Ministry which includes Team Calvary volunteer co-ordination of our First Impressions Teams (FIT) with parking attendants, ushers, greeters and welcome centre personnel.

Vince married in October 1994 to his wife Deb and subsequently had four children Ian, Emma, Zoe and Max. Vince graduated with a 4 year degree in Pastoral Theology from Western Pentecostal Bible College. Part time hobbies include geocaching, RC Airplanes, close-up magic, foosball and dieting. Vince's favorite part of the pastoral calling is coffee ministry.
If life is kicking the tar out of you or things are going fantastic, if you are new to the church or have been here as long as he has, he'd love to buy you a coffee and get to know you better. Life is to be enjoyed and the right pastor can help.