This event has already occurred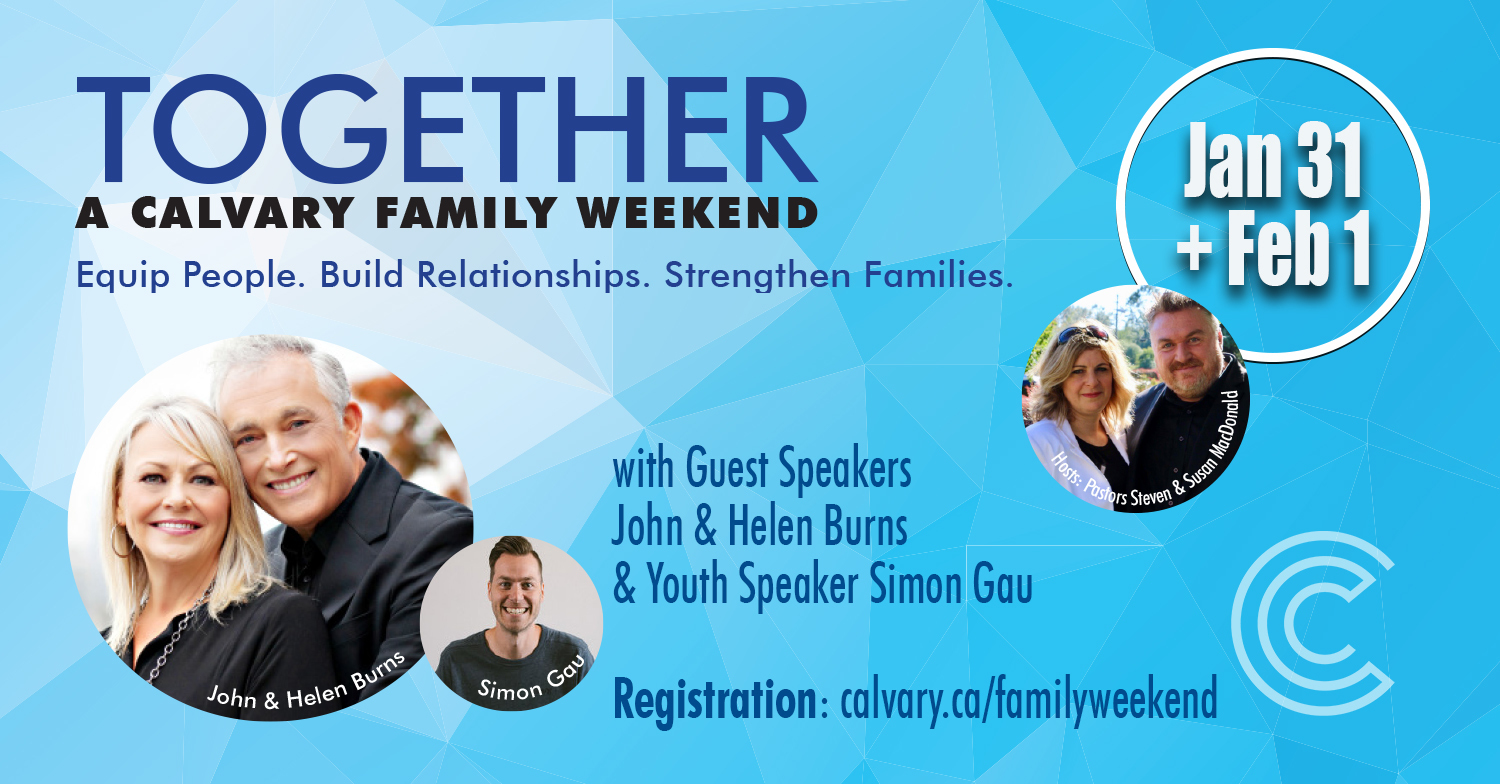 Save to your Calendar
We are very excited to present another TOGETHER | Family Weekend, hosted by Pastors Steve and Susan MacDonald. We have something planned for everyone. Calvary is an inter-generational family so whether you're a kid through adult, women or man, single or married, there will be something this weekend for you to hear from God and grow.
GUEST SPEAKERS
We feel very honoured to have our friends Pastors John and Helen Burns, founding and teaching pastors of Relate Church, for a transformational weekend of personal growth and faith. They are warm and dynamic leaders, passionate about equipping all generations with wisdom for life. John and Helen travel and minister globally speaking to churches and large groups sharing a message of wholeness and hope, especially in the arena of relationships. Together they host the television program Sex, Love and Relationships on the Hillsong Channel. John and Helen have three grown daughters and take great joy in their eight grandchildren.They have been ministers for a long time and are seasoned purveyors of wisdom in how you can overcome in your circumstances with Jesus taking the lead.
Our Calvary Student Ministry will kick things off on Friday night with ONE BIG Night | Worship Concert, featuring our very own Route Band, and special guest speaker Simon Gau.
SCHEDULE OF EVENTS
FRIDAY NIGHT: January 31, 7-9pm (FREE)
Host: Pastor Brad Funnell
ONE BIG NIGHT | Worship Concert - Schroeder Hall
Featuring - The Route Band
Guest Speaker - Simon Gau
Love | Dating | Relationships

SATURDAY MORNING: February 1, 9:30-12pm ($15/per)
Hosts: Pastors Steve and Susan MacDonald
Guest Speakers - John and Helen Burns
9AM doors open for coffee & continental breakfast
Married Life - Fireside Room
Kid Zone Pajama Party/ K-gr5 - Children's Wing ($5/per)
BREAK FOR OFFSITE LUNCH
SATURDAY AFTERNOON: 1:30-4:30PM (*$15/per)
Hosts: Pastors Steve and Susan MacDonald
Guest Speakers - John and Helen Burns
Ladies Only - Fireside Room
Men Only - Children's Wing
3:30-4:30pm Q&A for everyone | Fireside Room
*$5/child for each child K-gr5 in the morning session. Children can be registered within the adults registration. The nursery will be left open without an attendant for parents who need a baby break. If these options don't work for you, plan early to have alternate child minding in place for the Saturday.
Registration is CLOSED
We look forward to growing with you and hearing from the Burns. Get your heart ready for the next level of personal growth & faith.